THE LIST
Be BACA.
Like you, we're seekers of adventure, spectacular wine, and unforgettable experiences. We bring a fresh approach to winemaking but our origin story includes some of California's best winemakers and vintners. Best of both worlds, we say.
Our club is called THE LIST
BACA is available in very limited quantities. But as a Member of THE LIST you'll have first access to our releases. Join now, joy later.
As a Member of THE LIST, you'll receive:
10% discount on BACA Wines
Priority access to purchase up to 12 bottles of each wine, compared to non-members' 3-bottle limit.
Invites to Member-only events.
15% discount on HALL Napa Valley Collection Wines and a 10% discount on Winery Exclusive Wines.
15% discount on merchandise at the winery.
15% discount on WALT Appellation Wines. and a 10% discount on WALT Single Vineyard Wines.
Complimentary tastings for four guests at WALT | BACA Healdsburg, HALL St. Helena, WALT Sonoma Plaza and WALT Napa Oxbow.
Complimentary HALL tours for four at HALL St. Helena.
Member pricing on elevated tastings at all of our properties.
Preferred access and upgraded wine when booking a private wine experience at HALL St. Helena and HALL Rutherford.
We ship our newest releases four times a year: New Year, Spring, Harvest and Winter.
You can sign up for shipments of 2, 4, or 6 bottles.
2 bottles  $100 per shipment + shipping and tax
4 bottles  $200 per shipment + shipping and tax
6 bottles  $300 per shipment + shipping and tax
Order 6 bottles or more and shipping is only $1.
For more information about our membership agreement and cancellation policy, read our Terms & Conditions.
---
New Year—1st Quarter Shipment
Happy New Year! We hope you had a wonderful holiday season with your family and friends, and that with the start of the New Year, you are happily into a great post-holiday routine. At BACA we've been busy planning and have lots of terrific things in store for you. As a member of THE LIST, you will now receive four shipments per year from us. You will also enjoy discounts when you purchase HALL and WALT wines, and when you visit any of our HALL Family properties.
The two wines in the shipment you are receiving today are some of our favorites. Double Dutch and Marbles are our most fruit-forward and energetic wines, and we love that they showcase the breadth of our portfolio from Paso Robles to Napa Valley. Please let us know on social media @bacawines and #FortheZin what you think of them.
Here's to a 2020 full of exciting adventures, great Zinfandels, and more!
---
Spring—2nd Quarter Shipment
Happy Spring BACA LIST members!
Each season brings new opportunities and challenges, and this has certainly been a challenging time for all of us. We hope you and your families are all safe, and have been able to spend some extra quality time together. We also hope that our BACA wines can bring some joy into your lives during this time. As you know, our tasting rooms have been closed due to the Shelter-in-Place order. As soon as it is safe to do so, we hope to welcome you back to our tasting room in Healdsburg, as well as the other Hall Family Wines locations. In the meantime, we hope to engage with you through social media, over the phone and through some fun online tastings that we will be launching soon.
We are very excited about this quarter's selections. First, it includes I Spy—one of our favorite wines. It comes from the Black Sears vineyard on Howell Mountain, which is a very small wine growing region, that grows an even smaller amount of Zinfandel. We love the herbaceous and brambly fruit notes in this wine. Second, it includes our newest wine—Somersault, which is from a 100-year old vineyard called Pacini in Mendocino County. This is a robust and elegant wine, that we hope you will enjoy.
Harvest—3rd Quarter Shipment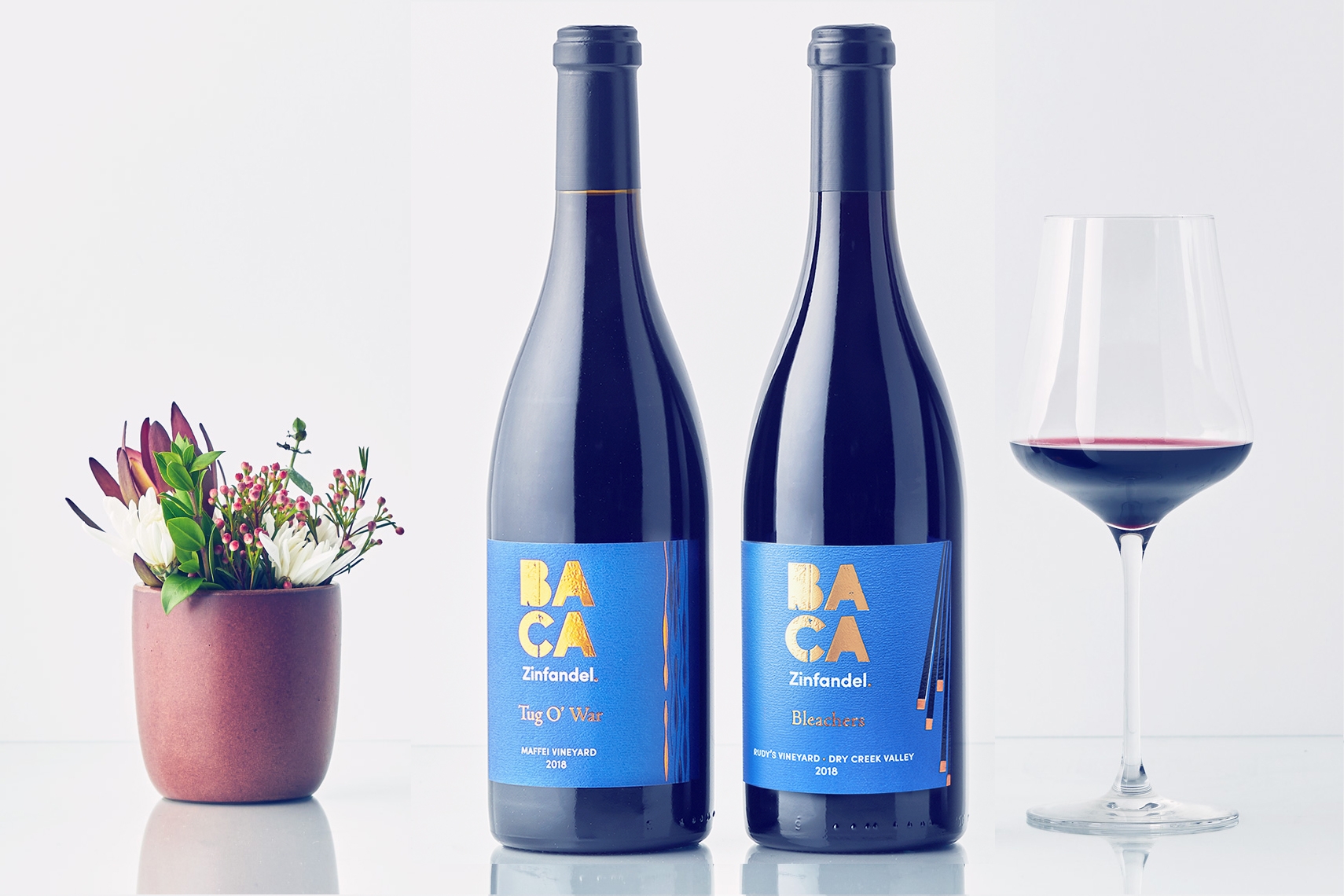 Winter—4th Quarter Shipment
We're always up for an adventure.
Here at BACA, we're big on embracing the moment. On living fully and wonder-filled. We have a hunch you do, too. So sip some BACA, take in today, and try to solve our puzzle. It just may surprise you.
A little bit of fun – that's what BACA is all about.
Feeling like you deserve VIP treatment, exclusive wines, discounts and more? Join the club.
Join the club.